May 2020 "Virtual Meeting" Pictures
Brian got the ball rolling

Ken's latest slot car, a

'donated' a 1/32 Jaguar XK-120, a bit of a wreck from sometime last year. Many parts were missing, but he fell in love with the spats! Nice save, Ken!
Bob actually finished one! Seen in-progress at a meeting before, but the small final details seem to take forever!

Some spare parts included, and Jimmy's cat somehow got into the picture!
Bob also got some more work done on his Lindberg GT6-to-Spitfire conversion on the back burner

Chris has been working on a Revell Deuce Roadster, a kitbash between several of the different Revell Deuce kits. Engine and chassis out of the sedan, decklid and dashboard from the five-window coupe, and the majority of the interior out of a rat roaster kit. Wheels and tires are from the Orange Crate and the firewall and the top of the cowl and eventually the Duval Style windshield are from the AMT Phantom Vicky kit. Did some careful slicing and dicing to graft the cowl top from the AMT kit on to the Revell roadster body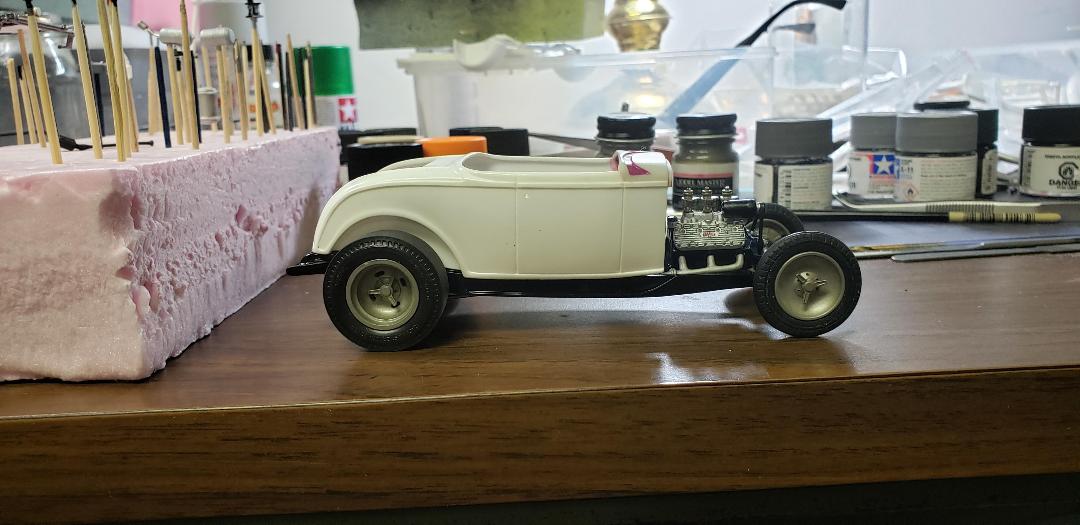 Rob sent in some pics of his build for the "Blue" theme meeting at Peel Scale Modelers that wasn't meant to be...

Mike sent some pics of a couple he finished, nice paintwork!
Andre completed his '64 GTO and posted it on the our Facebook Group

and finally, Andre's next one up...
Thanks for looking, see you at the next meeting, hopefully soon!
Stay Well!
ALL INFORMATION AND PICTURES ON THIS SITE IS THE PROPERTY OF GROUP 25 MODEL CAR BUILDERS CLUB